» Google, Google Glass, journalism, Manhattan, Mary Majerus-Collins, media, New York, social media » Seeing The World Through Google Glass
July 29th, 2014 | Add a Comment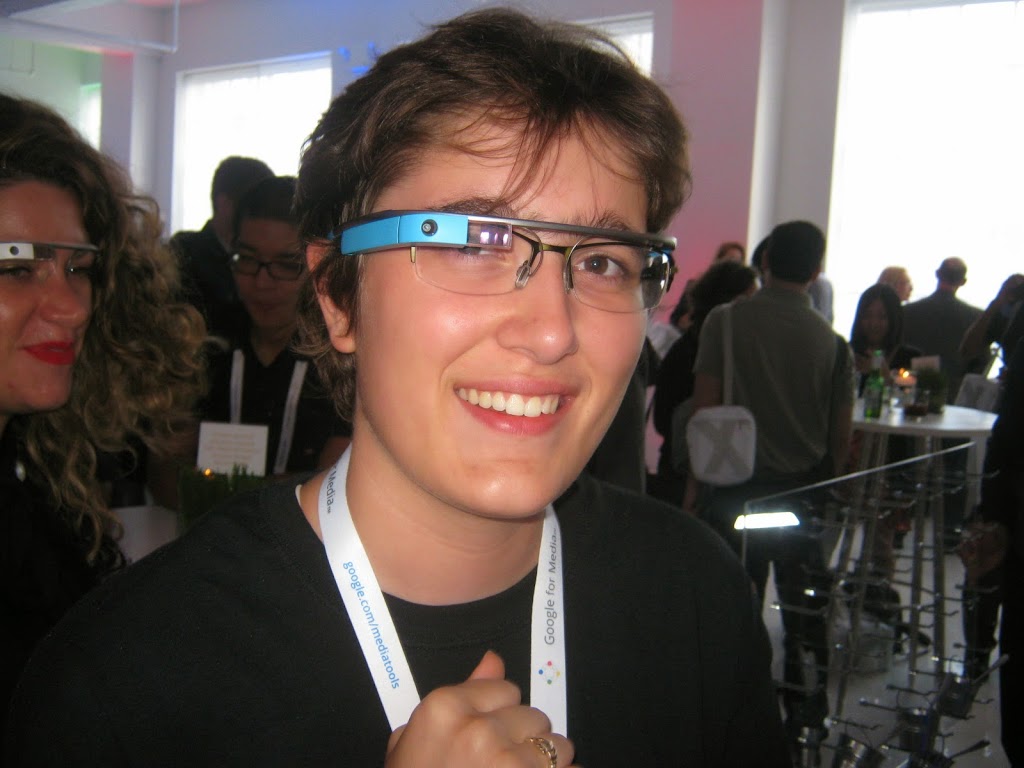 youthjournalism.org
YJI Senior Reporter Mary Majerus-Collins wearing Google Glass
NEW YORK, N.Y., U.S.A. – Google's new piece of famous tech, Google Glass, allows the user to browse the internet, take pictures and video, share on social media and more, all while remaining relatively hands-free.
Google Glass fits and feels just like a normal pair of glasses. The sample pair I tried on had no lenses – they looked a little weird to me, but it made them fit right over my regular glasses. so I wasn't blind while wearing them
The screen for Google Glass is in the top right-hand corner of your vision and is a little bigger than a thumbnail. When I looked up at it, I had a little double vision of the screen, but I suspect that it would go away with use (or less caffeine).
Google Glass functions on a combination of voice, touch and motion sensors.
You turn it on and go back by touching the side piece and scroll by raising and lowering your head. Speaking activates controls like camera and video.
The woman showing me the Glass said the data is stored in the cloud.
***
Your tax-deductible contribution can help support this nonprofit at www.HelpYJI.org
Filed under: Google, Google Glass, journalism, Manhattan, Mary Majerus-Collins, media, New York, social media
Mission Statement
Youth Journalism International connects student writers, artists and photographers with peers around the globe, teaches journalism, fosters cross-cultural understanding, and promotes and defends a free youth press.
Sign up for email updates
To Prospective Students
Please go to the form on the Join page and fill out all of the information you can. Be aware, though, that YJI is far behind in moving people off our waiting list. We apologize for the delays. This nonprofit has a desperate need to grow -- and to raise the money to make it possible.
Blogroll
You can help YJI!
Your generous donations will make it possible for many more students to participate in YJI from all over the world. Click on the DONATE button above or visit
www.HelpYJI.org
October 2017
M
T
W
T
F
S
S
« May
1
2
3
4
5
6
7
8
9
10
11
12
13
14
15
16
17
18
19
20
21
22
23
24
25
26
27
28
29
30
31
Call YJI
Main Office--
860-655-8188
Write YJI
Youth Journalism Int'l
30 Taylor St.
Auburn, ME 04210
YJI on social media
You can find Youth Journalism International on Facebook, LinkedIn, Tumblr, Ello, Instagram, Twitter and other social media sites. Please feel free to share YJI links, pictures and updates.
Privacy policy
Youth Journalism International values your privacy. It will not share, sell or otherwise pass along any information gathered from any of its readers or donors for any commercial purpose.
WINDOWS ON THE WORLD – THE VIEW FROM THE WINDOWS WHERE OUR STUDENTS AND READERS LIVE — SEND YOURS, TOO!
Send us your pictures! Email to youthjournalisminternational@gmail.com
Archives
Categories
Copyright 2017. All rights reserved.
Youth Journalism International is approved by the Internal Revenue Service as a 501 (C) (3) tax-exempt organization, and all donations are tax deductible to the extent provided by law. Youth Journalism International Federal Identification Number (EIN) is 26-1522174.
For information on reprint rights, please contact Youth Journalism International at editor@youthjournalism.org.