» Ahmed Zaqout, Gaza, Gaza Strip, Israel, Palestine, peace, Salama S. Salama, War » In Gaza, Life Itself Is The Cause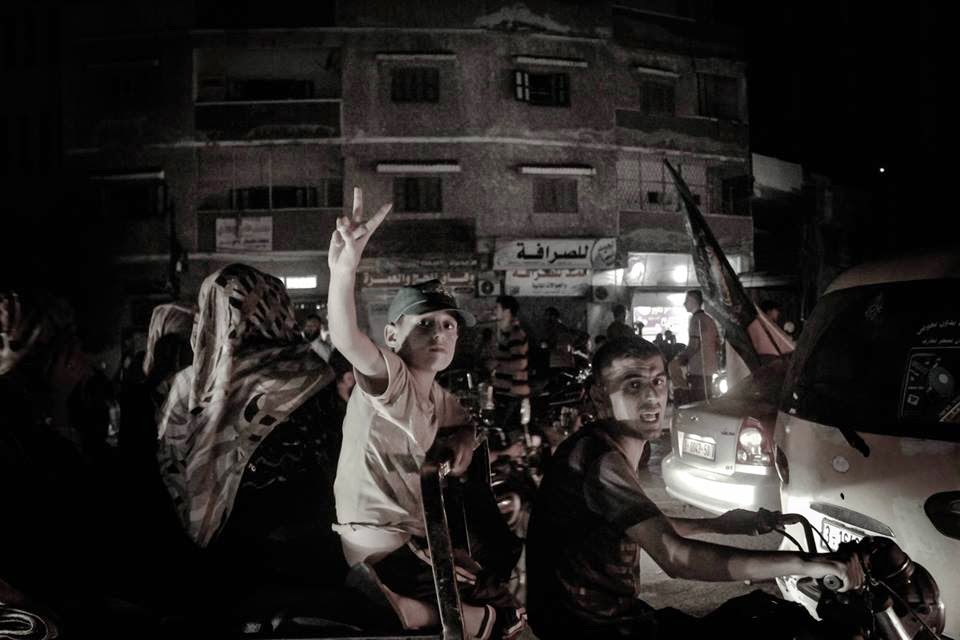 Salama S. Salama / youthjournalism.org
A boy takes part in the celebration of the cease-fire in Khanyounis on Tuesday.
KHANYOUNIS, Gaza Strip – The poet Rumi wrote that the wound is the place where the Light enters. If that is so, Gaza today is flooded with light.


The cease-fire came at 7 p.m. Jerusalem time Tuesday. It was the moment where life gave a glimpse of a smile to the more than 1.5 million people in Gaza, causing them to live every single feeling all mixed up in one heart.

But I can only speak for myself. How do I see it?





It was disturbingly surprising how we in Gaza even had the thought of celebrating after more than 2,200 souls were snatched away with no mercy in seven terrible weeks of war. And thousands more are still living the most arduous life imaginable in one of the cruelest diasporas in history.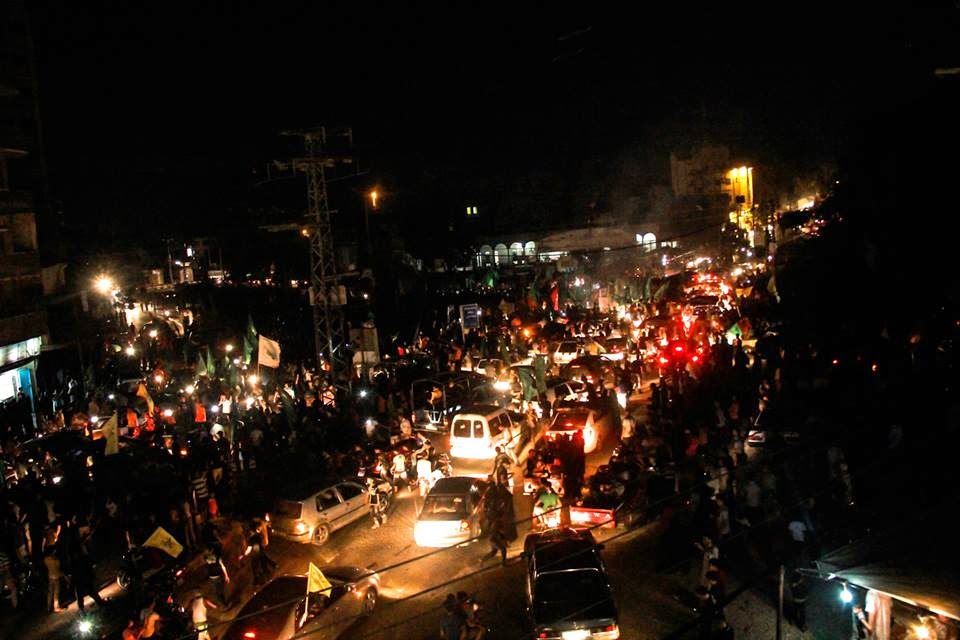 Salama S. Salama / youthjournalism.org
After officials announced the longterm cease-fire with Israel, Gazans took to the streets to celebrate. Above, a crowd gathered on Abu Hmid street in Khanyounis on Tuesday night. In the photo below, crowds gather in celebration in Khanyounis on Tuesday, with some people waving the green flag of Hamas.

I couldn't even smile at that moment. I was joyous, yet even more sad.

I talked to random people about how they were feeling after this massacre, and all I got were vague answers that told me nothing but how confused their emotions were.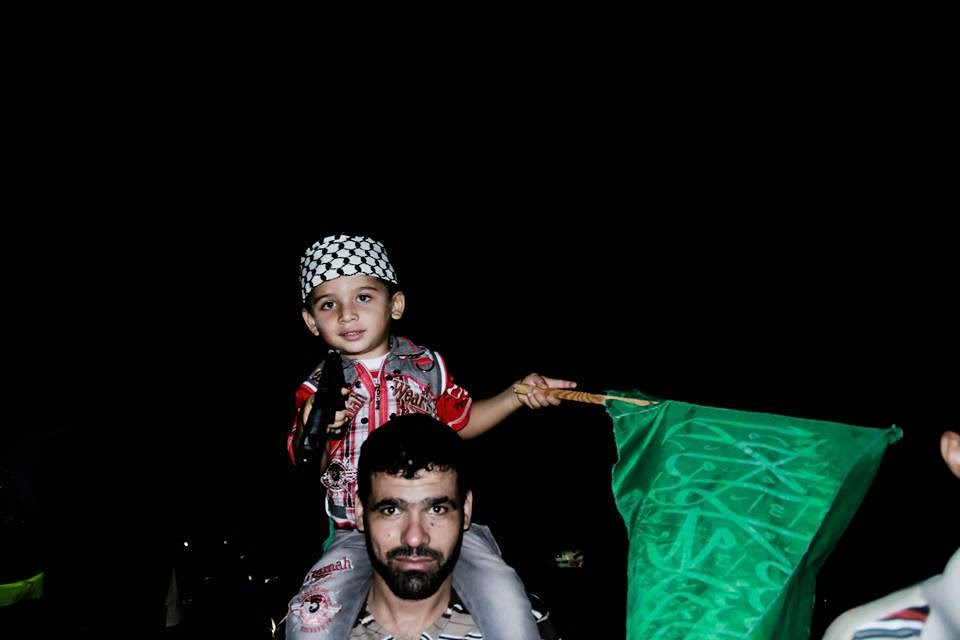 Salama S. Salama / youthjournalism.org
A father, Yassir Fayad of Khanyounis, carries
his son
Khaled on his shoulders as they take
part in the
celebration of the cease-fire on Tuesday night. Khaled is holding a green Hamas banner in one hand and a toy gun in the other. Fayad said everyone else was out celebrating victory, so he went, too. But he said, sadly, "Another two victories and we will vanish."
I could see their sorrow in one eye and happiness in the other.

But that happiness wasn't from an end to the colossal calamity we had endured. Instead, it was a salute to all those innocents who lost their lives for the sake of dignity and freedom.

People here see hope – not in the future of the conflict nor in the future of themselves, but in the future of humanity.

Gazans appreciate life more than anyone in this world, because when you think about it, they die for such a cause. They want simply to live.
They die for the sake of tomorrow and the day after tomorrow. And most importantly, they live for today.

Some may call it a victory and some may call it a loss, but in the end, it is these particular moments that make us rethink our lives.

Once you get in a storm, you never come out the same person. Gaza might have seen the worst, but Gaza said, and will always say, "NOT TODAY," to the god of death. And for that, I shall smile.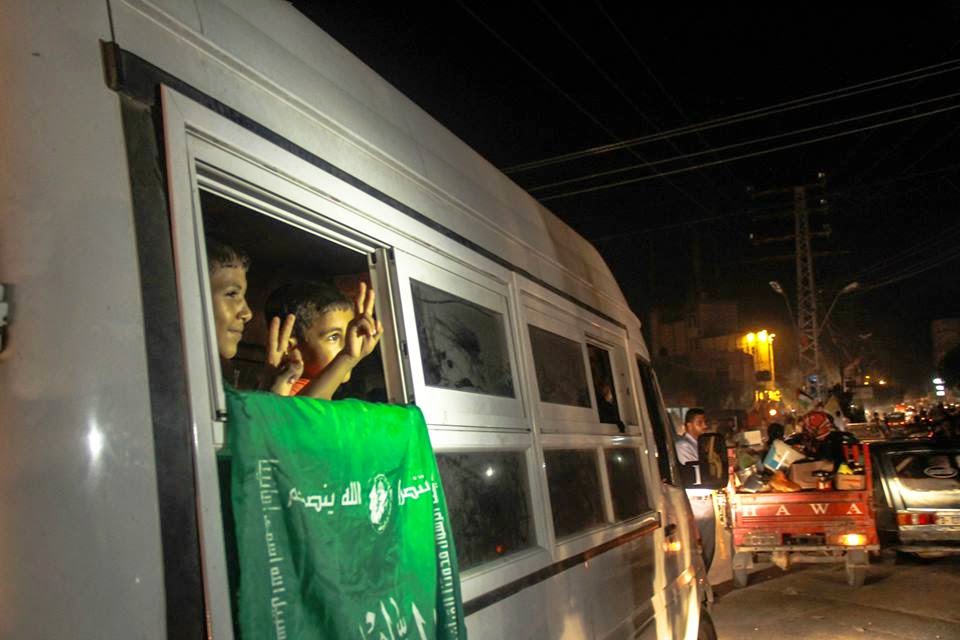 Salama S. Salama / youthjournalism.org
Children peer out the window of a bus
on the way to a celebration in Al-Saraya,
the downtown section of Gaza City
on Tuesday.
***
Your tax-deductible contribution can help support this nonprofit at
Filed under: Ahmed Zaqout, Gaza, Gaza Strip, Israel, Palestine, peace, Salama S. Salama, War