» Featured, Rachel Glogowski, Stefan Koski, women's rights » Women Deserve 'Half The Sky,' Writers Argue
By Rachel Glogowski and Stefan Koski
Associate Editors
HARTFORD, Connecticut, U.S.A. – Although slavery in the traditional sense of the term was banished from modern American society, journalist Sheryl WuDunn says we have a long way to go in order to defeat similar "evil traditions" across the globe.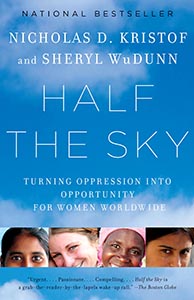 "Enslavement of girls and women is just so oppressive," said WuDunn, who together with her husband, 
New York Times
 columnist Nicholas 
Kristof, travelled China as foreign correspondents.
WuDunn and Kristof were keynote speakers at a Harriet Beecher Stowe Center event this summer that focused on women's rights and social change.
WuDunn and Kristof, the first married couple to win the Pulitzer Prize for their coverage of China's 1989 Tiananmen Square massacre for The New York Times, won the inaugural Stowe Prize for their book, Half the Sky: Turning Oppression into Opportunity for Women Worldwide, which examines the status of women in various developing countries.
Stowe Center forum on 'Inspiring Action'Stefan Koski/YJI
The panel discussion, "Inspiring Action: Real Stories of Social Change" and the book prize, awarded by the Stowe Center, marked this year's 200th anniversary of Stowe's birth.
The panelists, who included founders of nonprofit organizations and California Congresswoman Laura Richardson, focused on women's rights as the contemporary version of the slavery issue that plagued Stowe years ago when she penned Uncle Tom's Cabin.
WuDunn said what she and Kristof found in China was evidence of its "evil traditions," including infanticide and abortion of female babies, resulting in approximately 300 million missing baby girls.
But when they travelled elsewhere in Asia and Africa, they discovered widespread discrimination against women that took on many forms, including sex trafficking.
Kristof described how a trip to Cambodia highlighted the importance of reporting on and combating human trafficking.
There he heard stories of girls being kidnapped and sold for their virginity. In one case, a mother spent six months searching for her young daughter who was kidnapped and sold into a brothel, only to discover that she could not afford to buy her freedom.
For him and WuDunn, human trafficking is one of the most egregious affronts on human rights across the globe.
"Human traffickers are business people," said WuDunn. "They're in it for the money."
Kristof said Americans tend to dismiss human trafficking as happening in other parts of the world but said it is more prevalent than people might think.
It needs to be stopped, Kristof said, "whether it's happening in Calcutta, India or Hartford, Connecticut."
People aspiring to make a difference do not need to travel to Africa or Asia because there are "lots of atrocities happening in the U.S," WuDunn added.
"One of the most important escalators out of poverty is education," said Kristof, adding that with recent budget cuts in spending across the U.S., "We're essentially shutting down or cutting that escalator."
Shannon McNamara, who founded the non-profit organization SHARE when she was 15, echoed Kristof's call to increased education.
The goal of SHARE, which stands for Shannon's Afterschool Reading Exchange, is to educate and empower girls in the poorest areas of Africa by funding electricity in four schools, supplying libraries with over 33,000 books and supporting after-school reading programs.
"We wanted to help create problem-solvers," McNamara said.
But one of the biggest obstacles McNamara faced in implementing her programs was getting permission from the girls' parents to allow them to attend school in countries where traditionally only males are educated and where only 5 percent of girls graduate from high school.
McNamara is working hard to change these trends.
"Empowerment is just as important as education," she said.
Kristof and WuDunn also spoke of allowing women to work as an important step to empowering an entire community.
"When you make society whole, you create this great spiral of opportunity," Kristof said. He argued that failing to allow women equal employment opportunities is nonsensical because increasing the financial status of women in a community benefits that entire community.
"To the extent they're able to empower other people, they're able to empower themselves," he said.
As Kristof said, the ultimate goal is to "give girls the opportunity to own their half of the sky."
Filed under: Featured, Rachel Glogowski, Stefan Koski, women's rights