Kryvyi Rih, UKRAINE – One year – 365 days, 525,600 minutes – of war. I can't believe that my last four years were filled with the worldwide pandemic isolation and then, the horror of a massive conflict in my native country.
Ukraine is battling for dignity and independence.
Let me share a little bit of how I've been scraping through these tough times.
February 24, 2022
I remember when I woke up and read the news, I couldn't believe my eyes: WAR. It was unbelievable it could happen in the middle of Europe in the 21st century, in a world of democracy and cooperation.
My mom bought some essentials, and we spent all day at home because nobody knew what the next minute could bring.
February 28, 2022 9:48 p.m.
The shriek of the first air raid siren in my hometown of Kryvyi Rih. We went outside, but we had no idea what to do.
People were panicking, running with kids to the nearest safe place. Thankfully, it only lasted for 20 minutes and we returned to our flat.
For the next week, we've learned the "two walls" strategy, which they say can work as a shelter. Time flies faster, when you are sitting on the floor and talking to your neighbors.
March 4, 2022
Mom's friend called and told us that we could go to the Czech Republic, where a host family waited for us. The decision to leave Ukraine was almost spontaneous, but we had no doubts we would come back, because Ukraine is our homeland, and we are feeling a strong connection with it.
After spending 17 (!!!) hours on the border, we were finally in a safe place.
March – June: Prague, Czech Republic
Our first trip to Prague was weird. As I remember, we were not even impressed with the beauty of the old streets and amazing architecture. We were not tourists that time – we were refugees.
The number of pro-Ukrainian posters and stations for humanitarian aid was huge. I had tears in my eyes when we saw that support.
I am grateful to our host family because they worried about our mental health and helped with any problem as much as they could. I can't even believe what our life would be without their support and presence. We are still keeping in touch, and I am sure we'll meet one happy day.
June, 2022 – February, 2023
Due to an unpredictable family situation, we had to come back home. For me, the main psychological challenge was empathy. When we were abroad, we were scared for our relatives and loved ones. It didn't feel right to be so far away.
Now I have to confess that, unfortunately, Ukrainians are getting used to the conditions of war. I can barely think of my ordinary life in peaceful Ukraine in 2021. But I have no doubts that we will prevail and peace will be given back to our people. We are doing everything we can – making donations, volunteering – to speed it up.
Since the very first days of war, my family has been weaving camouflage nets for our warriors. This is really reassuring.
I clearly understand that my life path is easier than the one of the kids of Bucha and Mariupol. Still, this year influenced me greatly and changed me a lot. Feeling my nation's resilience made me proud of being Ukrainian. I felt freedom flowing in my veins.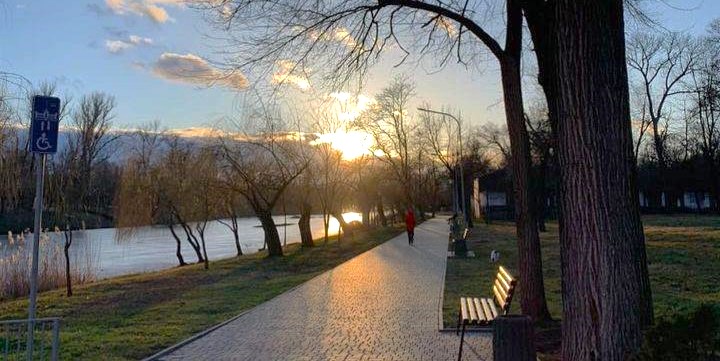 Looking ahead
We've endured 365 days of horror and hope, a whole year of days of darkness and splashes of light, 365 days of absolute despair, and a strong belief in higher justice.
I firmly believe that 2023 will be the year of victory, and that my life will get back on track. I'll go on studying, hanging out with my friends, traveling, and doing hundreds of little things which used to seem routine.
As I've learned, these small moments are the essence of life.
As we say, Слава Україні! Героям слава, or Glory to Ukraine! Glory to the heroes!
Vladlen Zaitsev is a Junior Reporter with Youth Journalism International.
More from YJI on the one-year anniversary of the Russian invasion: