ISTANBUL – It was a thrilling experience to revisit places in my own city and discover them anew through my own Turkish eyes.
At the Youth Journalism International Global Conference, I learned more about my city each time we went out, and that is something that not many can experience.
It's not common that people would get the opportunity this young, as I did in this conference.
The differences between the neighborhoods – socially, economically and racially – changes the things you see while walking in the streets of Istanbul.
Ethnicity, especially, can change depending on which side of Istanbul you are on, and which neighborhood you are in.
I was concerned about the place we were going to stay, in the Fatih / Beyoglu area in the old part of the city. When I told my father where we were staying, I could read from his face that it was near one of the notorious areas of Istanbul.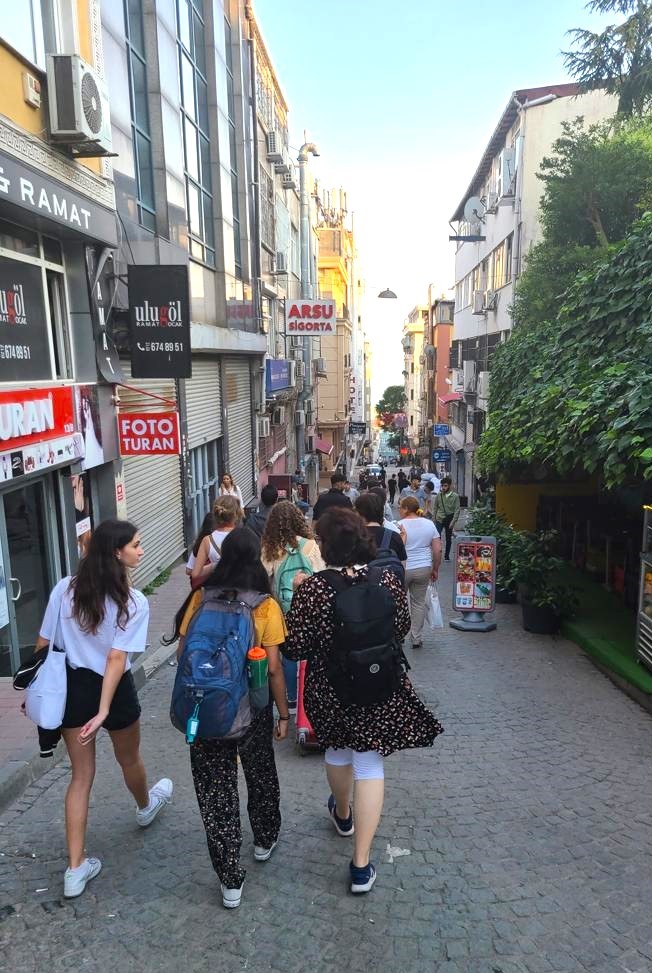 I cannot avoid mentioning that as we walked the Beyoglu streets, it was hard to see any Turkish people as might be expected or hearing people speaking in Turkish. I could hear a couple words as I passed by and nearly none of them were in Turkish.
I was both in shock and terror. The reason why I was in shock is mainly because I do not spend much of my time there, traveling. I just didn't recognize what the area was like, especially in summer when it is full of visitors.
This journey from the very beginning to the end made me realize many things, including about what I thought I knew. The most obvious one was that I was not deeply knowledgeable about the European side of the city.
Even though I have recently turned 16, I was not aware of what all the places near the tourist sites were like recently. I realized that this could be the consequence of me visiting them a long time ago.
I saw some of the city's historic sites with my family or on a school trip when I was too little to acknowledge all the beauty that can be found in even the smallest details.
I am so grateful that I have seen a brand-new version of many places that are truly worth visiting.
At the Grand Bazaar, it was startling to see hanging scatter rugs, traditional footwear bags and scarves and the welcoming doorkeepers. It wasn't any less so to gape at pig corpses in the butcher' showcases during our walk to the old city walls.
It is hard to decide whether it was haunting or memorable.
Feeling like a tourist for a week and being able to see an outsider's view of Türkiye with full empathy for my friends who had left home from far away to come here for the first time. I still hear my lovely friends asking me the difference between Türkiye's Asian and European side.
How can I forget our sweet conservation about being a teenager, and seeing it still has so many similarities even when you live in completely different cultures in our everyday routine hours long of walks.
Ours was a remarkable, shared adventure.
I learned countless lessons and experienced the best journey of my life. And now I know it is just the beginning of my realizing, learning and understanding.
Beren Deniz Öcek is a Junior Reporter with Youth Journalism International from Istanbul. She wrote this commentary and provided the photo from the tram.
Sena Naz Ekşi is a Junior Reporter with Youth Journalism International from Istanbul. She took the cover photo.
See YJI's entire Istanbul Adventure by clicking on the logo below: