HARTFORD, Conn., U.S.A. – When she was a little girl, author Judy Blume never wrote down all the stories she thought of as she bounced a ball against a wall at her house.
"I was a creative kid," Blume told an audience of several hundred in Hartford, where she spoke at a fundraiser for the Mark Twain House.
But
Blume, who wrote Are You There, God? It's Me, Margaret., the vastly popular "Fudge" series and many other books for children, teens and adults, said she was never encouraged to write as a child.
"I kept those stories to myself," she said. "What a shame."
She said she loved books from an early age and visited the library with her mother.
"The first book I ever loved was Madeline," said Blume. "I memorized it."
Blume was so young that she didn't understand that the library's copy of Madeline wasn't the only one in the
world.
"I hid it from my mother so she wouldn't take it back," she said.
Growing up in the 1950s, Blume adored her father, who was outgoing. She said she was more like her mother – shy, quiet and anxious.
Though she had a good family, Blume said she felt enormous pressure to be perfect.
"It was wonderful, but it wasn't perfect," she said.
She's had the same best friend for 62 years – since seventh grade – but they never spoke of anything serious until adulthood, said Blume.
When she grew up, she went to college and studied to become a teacher, but never took a teaching job. She married and had children, and while they were young, started writing.
At first, Blume thought she might write books that rhyme, like Dr. Seuss. She enrolled in a night class for "tween" writing at New York University, where she had her work published.
"No one can teach you how to write," she said, but added that she felt she had to have something ready for class, so it made her write. She also found something important there – encouragement.
"I wrote while the kids were at preschool," she recalled.
She went to the library and brought home stacks of books. She read them and sorted them into piles – those she liked by authors she wanted to emulate, and those she didn't.
"Beverly Cleary was a huge inspiration for me," said Blume, referring to the author of the children's novels featuring the impish Ramona Quimby.
Early on, Blume said, her "prayers" for her writing career were first, that she would be published, then that someone would read it, and finally, that she might one day hear from someone who had read her work.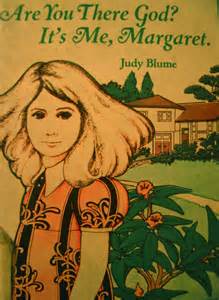 All of that happened with Are You There God? It's Me, Margaret. in 1970, and Blume began to hear from her readers.
"People would pour their hearts out," she said. "It's easier to tell the stranger you don't have to face at the breakfast table."
Some of them were "very troubled kids," said Blume, who needed much more help than she could offer. She said she isn't a social worker or a therapist, so she consulted with professionals about how to respond to some of them and even had to intervene a few times.
The first of her books to make it to the big screen is Tiger Eyes, a 2012 film about a girl's grief after the sudden death
of her father.
Blume said she didn't realize until later that in Tiger Eyes, she was writing about her own feelings about losing her father at age 21. It was an emotional story for her, she said, and she cried writing it.
On the other hand, she said the "Fudge" books – beginning with Tales of a Fourth Grade Nothing – made her laugh.
"I like to feel the emotion of it," she said.
Blume based the Fudge character on her son Lawrence Blume, who is now the film director and screenwriter for Tiger Eyes, she said.
Fudge eventually took on his own personality, said Blume, who wrote five books about the beloved little troublemaker. She said she was ready to stop writing about Fudge, though, and wrapped up the story line in Fudge-a-mania.
But then her grandson begged her to write one more, just for him, and she couldn't resist. That's when she wrote Double Fudge.
Some of the books have been updated to reflect contemporary life, said Blume. The electronics that the kids have in the Fudge books, for instance, have been updated.
But it's not just the book characters who are keeping pace with modern life. Blume, who has a website and Facebook fan page, is active on Twitter, too.
"It is addictive," she said.
Her writing ideas come to her not when she's sitting at the computer, Blume said, but when she's doing something else.
"That's what it takes for me," she said. "A lot of writing takes place when you're not writing. The physical allows the mental."
Blume urged aspiring young writers to seek out books for inspiration.
"Read, read, read, read, read, read," said Blume. "And then write and don't worry about what you're writing. Keep writing. The more you write, the better it gets, the more you learn how to do it.
"Go from one writing project to the next, to the next," Blume said. "and don't ever let anybody discourage you."
Youth Journalism Junior Reporter Avery St. Germain and Senior Reporter Mary Majerus-Collins wrote this story and Reporter Yelena Samofalova contributed to it.