ISTANBUL – Travelers of Istanbul take note!
Is the intense hustle and bustle of Europe's largest city starting to wear you down a bit? Would you really love the opportunity to have a moment of serenity and witness a spectacular vista while you're at it? It's time for you to look out (or rather up) for Galata Tower.
Galata Tower stands proudly in the Beyoğlu district of Istanbul, high above the Golden Horn. At a windy 63 meters (205 ft), you're unlikely to miss it. But where it truly claims its place in the Istanbul skyline is with its design, crafted in a beautiful Romanesque style almost 700 years ago.
This building has worn many hats, though not literally.
It was a watchtower to help defend the city back when the city was Constantinople, and it was the tallest building around. It later became a prison, confining unlucky criminals who were used as forced lab or at the nearby dockyard.
It was allegedly the starting point of the first intercontinental flight, when a man named Hezarfen Ahmed Çelebi strapped on wings and leapt off the tower on the European side to glide over the water to Asia.
Galata Tower was then used as a lookout tower for fires, because as these pictures will show you, you can gaze for miles in any cardinal direction. Finally in 2020, it became a museum and exhibition place for locals, tourists, and travelers alike.
On entrance, you are whizzed to the top floors in a speedy elevator and met with a table-sized 3D recreation of Istanbul. For those brave enough to venture further up, stairs lead to the viewing room and balcony. Imagine a beautiful room, walled mainly by floor-to-ceiling windows, with enough space for 100 people to sit down comfortably.
Now imagine this room wrapped by an outside balcony that is two people wide, at most. This is where 90% of those people will congregate and squeeze together, cameras at the ready. It's not for the faint of heart, being so high up, exposed and in such confined quarters. But it's easy to see why it is worth the struggle.
The view of the city from the top of the tower is different from any other view you are likely to witness in Istanbul. On the ground, the city often feels like organized chaos, where the locals are following a pattern you're unable to see until you have experienced it for a few days.
But up in the sky, the city looks magnificent and peaceful, spreading out from underneath you as far as the eye can see, its progress only halted by the glistening water of the Bosphorus. This viewpoint has been witnessed by a lucky few people for hundreds of years but now it is ready and waiting for you to arrive in Istanbul.
It is especially beautiful to visit at sunset, to see the golden light bounce off of the sea and ancient buildings. But be wary of the queues and take note that you must buy your entry ticket from a nearby booth at the base of the tower before you line up to get inside. Regardless of the time you arrive at the top of Galata Tower, it's a sight worth seeing in pictures on Instagram, but priceless experiencing in person.
Once you have taken in and been adequately stunned by the 360° vistas at the top, you make your way back down via the narrow and winding stone staircases. But as mentioned, the Galata Tower now also serves as a museum, and your descent is pleasantly interrupted at frequent intervals by exhibitions and interactive displays.
You can learn about the famous Ottoman travel writer Evliva Celebi and his description of the man who was rumored to have flown across the city and water from the tower top. You can even try playing a game on large screens where you are controlling this man and his glider with your own body movements.
For a more modern twist, check out an exhibition on Coşkun Aral, acclaimed photojournalist and documentarian. The exhibit features a great selection of some of his best work and it is definitely worth pausing on your way down through the tower to see it.
All in all, the Galata Tower is a great experience that deserves a place on your itinerary if you are lucky enough to travel to Istanbul. But stop taking my word and these pictures for it, and go enter this bastion yourself!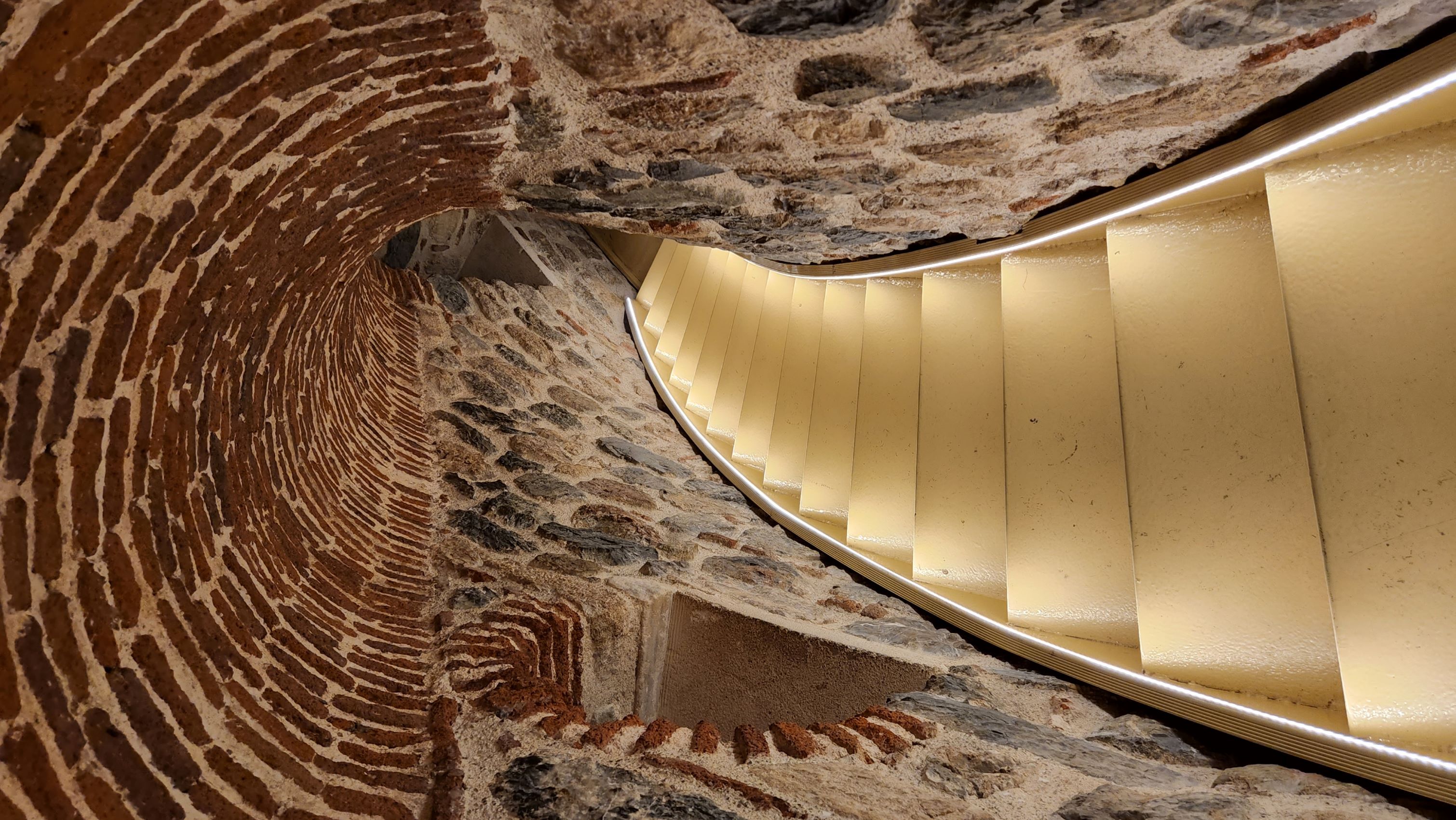 If you go to Galata Tower
DO:
Take lots of pictures. Lots and lots.
Stop on the way down to check out the exhibits. Wow!
Make sure you have a ticket before queuing to enter the Galata Tower.
DON'T:
Forget to bring your I.D, it's needed for entry.
Bring along an underage Turkish friend. (Turkish citizens under 18 are barred from entry without parental permission.)
Fall down the spiral stairs on your way down. It's easier than you think!
Owen Ferguson is an Associate Editor with Youth Journalism International from Scotland. He wrote this article about Galata Tower.
Photo contributors: Norah Springborn , a Correspondent with Youth Journalism International from the United States. Mary Majerus-Collins, an Associate Editor with Youth Journalism International from the United States.
See YJI's entire Istanbul Adventure by clicking on the logo below: