Lima, PERU – Pulga, a clothes store here in Lima, is the perfect example of a creative space that welcomes its visitors. With rows of pastels and patterns, this bright and welcoming place is truly a reflection of its city.
Almost anybody would feel at home here. This is fashion without the exclusion, exclusivity or snobbery that plagues many brands. Daniel Gamarra Robies, the store's owner, is passionate about this being a space for everyone, but in particular, somewhere to express Peruvian identity.
For Gamarra Robies, Pulga is a place to bring to light what has often been suppressed through colonialism and its legacy.
"We are working right now around symbols that relate to pride around our culture," he said. "Colonialism has made us look to the other side, rather than to our culture and our power."
This seems to be where the essence of Pulga lies; in drawing focus to things that have long been ignored, celebrating what has been discarded and taking pride in what has been shamed.
The clothes didn't fit
Colonialism seeps into everything, including fashion.
Gamarra Robies described how difficult it has been to achieve even limited representation for Peruvians with fashion brands here.
"It is even more mixed than it used to be. I would go to these stores, and everything was for surfers."
Gamarra Robies said that while there are a lot of surfers in Peru, the offerings didn't represent the average mestizo – a person with both Indigenous and Spanish or European heritage.
"Everyone was blonde!" he said.
After a while however, Gamarra Robies started to reject this lack of representation.
"There was this moment where I was at this store," he recalled. "I was like, this is expensive for me, is this really me? Am I being sold that I need to be someone else? It is so silly that I was buying into that because I can never be that."
This lack of representation is about more than bad business.
"If we talk about a society's psychology, it is all about representation. You need to see like, look at this girl she is indigenous, and she is so handsome, she is like me, then we can go and 'conquer' the world – but not like colonialism!"
Seeing yourself reflected around you is important and powerful, and while things are changing, it is mainly because of Gamarra Robies peers, creatives who used to work in places like Pulga who now have the ear of major clothing companies.
They've pushed for large brands to do better, but there is still a long way to go.
Clothes are part of the culture
It is not only important for you to see yourself reflected in pictures and advertising, but for your culture to be embraced and celebrated in what you consume.
"Here in Peru we have beautiful tapestry and history. There are so many symbols, so much wisdom that has been lost, we are clinging to it."
Gamarra Robies passion for these symbols is clear throughout the store, with many of the designs being inspired by the history and culture of Peru.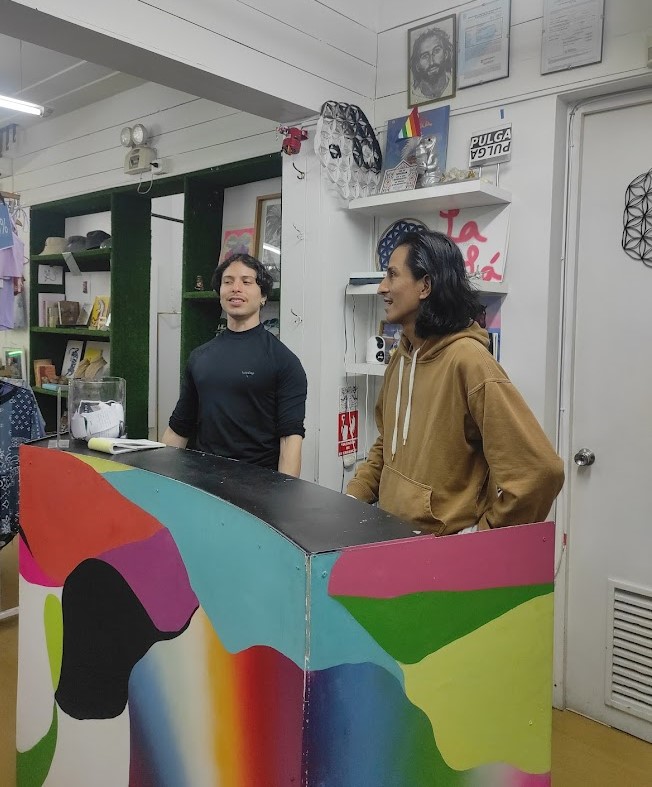 One example is a hoodie has the symbol of Tupac Amaru, who in the 1700s led an uprising against the Spanish empire to improve the lives of indigenous Peruvians.
Amaru was drawn and quartered. Gamarra Robies said that it feels as if the same was done to Peru.
"This is kind of how it feels, a colonial wound," he said, adding, "Our culture was supressed, they made our ancestors feel ashamed."
By featuring symbols of his culture and history, Gamarra Robies is attempting to heal those wounds.
"Colonialism makes you believe that you should wear that, that you should hide your culture – so one of the things we are doing is revolutionizing this thinking."
He went on.
"We want our own voice," he said. "We are original."
Fast fashion, an 'insane' business model
As Pulga grew in the early 2000s it suddenly faced incredible competition from American and European brands moving into the Peruvian market.
Familiar names like Forever 21, H&M and Zara drove local boutiques like Pulga out of business. Their prices were unbeatable – something Pulga is still grappling with today.
"For example," said Gamarra Robies, "this hoodie is 260 soles (around $70 USD). It is quite a bit, but at the same time it isn't once you think about the value of the fabric, which for us is 60 soles. Then H&M manage to sell their stuff for 40 soles. I don't really understand their business model – it's insane."
Watching a company like Pulga operate, you almost get whiplash thinking about brands like H&M. The sheer scale and speed with which they pump out cheap clothes is staggering.
"At least pay fair wages," he added, raising the uncomfortable truth that many fashion lovers often prefer not to think about.
"The least you can ask is for your clothes not to be made with cruelty."
Yet as we know, and often turn our heads away from, most of the places we buy our clothes from are companies that refuse to pay livable wages to workers in the global South and outsource everything to deny responsibility.
Pulga is doing things differently, according to Gamarra Robies, taking on these exploitative production cycles by working within the local textile industry in Peru.
Gamarra Robies works with smaller entrepreneurs in Gamara, a market in north Lima, which means that he knows the people he is working with and agrees on a fair price.
"The good thing about this kind of entrepreneurship is that as Peruvians, when we work with small scales, you really get to know the people that work for you," he said, adding, "It's important for us to give work and to work with each other."
More than pretty patterns
What about the future of representation in Peru?
"There have been so many before us doing the same thing, there has been this spark for a while, but it is getting bigger," Gamarra Robies said. "This is the spirit of our ancestors. They tried to kill it, but it's still here, it's still blossoming."
"Fashion is culture," added Gamarra Robies – a reminder that what we wear is never skin deep.
Finding clothes that resonate with your culture and identity is never trivial, and when you are denied that representation, even the softest silk can feel uncomfortable.
Amy Goodman is a Correspondent with Youth Journalism International.