Landgraaf, THE NETHERLANDS – Ever since I can remember, my dad had two big passions: running and Bruce Springsteen. Later I figured out that his ringtone had always covered both of them – the song "Born To Run" by, of course, Bruce Springsteen.
The melody of the song will never leave my brain I am afraid, and earlier this year I got the chance to go see 'dad's ringtone' live on stage in Landgraaf, a town in the Netherlands.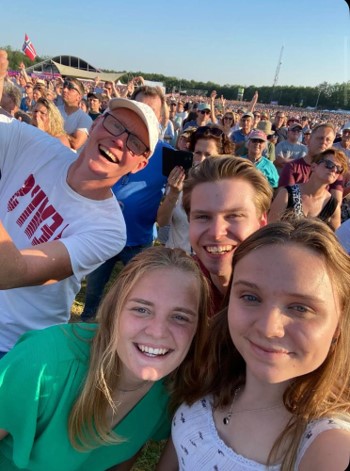 I'd had the date in my calendar for ages, because my dad was determined to see the show – probably the last Springsteen concert in our country – with his two daughters.
Me and my sister didn't have a clue what we signed up for, but luckily my dad was nice enough to send us a Spotify playlist with all of his favorite songs.
A side note is that neither of us did our homework and listened to one song on the playlist before the concert.
I thought I knew a thing or two about big festivals and concerts. I have been to P!nk before, and the Netherlands has a big festival culture so even that spring I had been to multiple big events.
But this was different. It was the biggest thing I had ever seen.
Reaching this was an experience on its own. The parking area was loads of kilometers from the stage.
The concert took place in the area of Pinkpop, one of the Netherlands' biggest festivals which was held a week later. The only way to reach the festival area was by an overcrowded shuttle bus.
It took us almost an hour to reach the field in front of the stage, but on the way home the same trek took us two hours.
Buying tokens for food and drinks took just as long. The rows were incredibly long.
The size of the crowd immediately made a big impression on me.
Springsteen started playing exactly on time – no support act, just Springsteen.
To my surprise I actually knew the first song: "No Surrender."
My dad must have musically educated me better than I thought. The most amazing thing for me was seeing the smile on my dad's face. And together with him, loads of others.
All Springsteen fans wore a smile from ear to ear as soon as their idol started making music.
My dad was definitely not the only one who came up with the idea to bring his kids to see Bruce Springsteen & the E Street Band in real life.
There were many kids, teens and young adults like me supporting their parents' hobby. Some were more familiar with the music than others. It was one big family fest.
I could instantly see why this man's nickname is "The Boss."
The 73-year-old played for three hours straight, having as much energy during the last song as during the first few. You must almost be an athlete to do a whole world tour with shows like this.
The music was great. Even a non-fan like me could listen to his songs for ages. The lyrics appearing on the big screen were so meaningful, and the music thrilled me.
Springsteen makes music enjoyable for everyone.
In a world where everything needs to be bigger and flashier than ever, it was a relief to experience a concert without any fuss around it. No snazzy light show or fancy costume changes.
Just Springsteen and his band playing, nothing more, nothing less.
So that is the story of how I unexpectedly really enjoyed the concert of one of the biggest artists of all time.
And the final score: four of the songs played by my dad's hero ended up in my playlist.
"No Surrender," "I'm on Fire," "Dancing in the Dark" and, of course, "Born to Run."
Anne van Mill is a Junior Reporter with Youth Journalism International.
More 2023 summer concert reviews from YJI:
When Taylor Swift brought The Eras Tour to Mexico, the crowd went wild